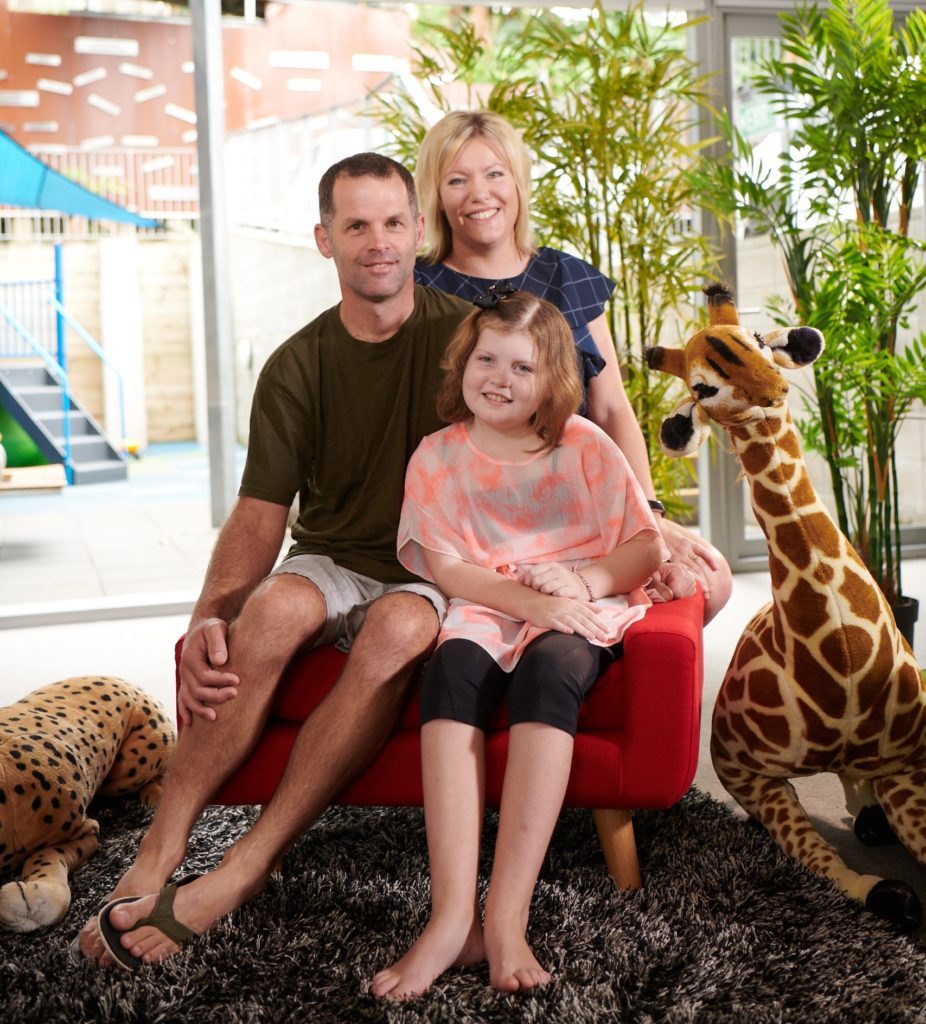 When a brother is his sister's perfect bone marrow donor match, it's more important than ever for a family to be together at a Ronald McDonald House®. The Diprose family from Matamata know this all too well.
Earlier this year, dairy farmers Jackie and Marc's daughter, Kate, had relapsed with leukaemia, aged just nine years when her big brother, Fletch, was confirmed a perfect match.
Fletch had no doubt being a bone marrow donor was something he wanted to do for his little sister. After watching Kate go through her journey over the previous seven years, Fletch was especially upset when she relapsed again.
"He turned 12 and all he wanted for his birthday was to be a match for Kate. He was so excited to find out he was a match. He said it was the least he could do for Kate because she is brave all the time and he just wished she wasn't sick," says Jackie.
Faced with treatment in Auckland, the family found solace in knowing they could all stay together at Ronald McDonald House amongst all the uncertainty.
"Fletch and younger sister Jessie are really loving and protective of Kate. They understand more now and being near Kate reassures them. They can be with her and see what she's going through," explains Jackie.
Fletch and Jessie have been attending the school inside the House. This keeps them up to date with their learning and means they have some normality while still being close to Kate. More importantly, the clean and safe environment of the school allows them to stay healthy while Kate's immunity is low.
"With Fletch being the donor, we couldn't risk him picking up any bugs and passing it on to Kate when she received his bone marrow. The on-site school reduced this risk and gave us peace of mind," explains Jackie.
But this isn't the first time the Diprose family has needed RMHC New Zealand®'s support.
In 2011, at just three years old, Kate began to have high fevers and a lot of pain in her hips and legs. She loved to dance, swim and play on the farm but then she stopped walking. A blood test revealed what no parent ever wants to hear, Kate had leukaemia.
At the time, Kate needed immediate specialist treatment in Auckland. Marc and Jackie had no choice but to drop everything and head straight there with Kate, Fletch and Jessie.
On that first trip they stayed over six weeks at Ronald McDonald House. While they were worried and stressed for Kate, Jackie says being together as a family at the House helped immensely.
"The House made life easier- and easy is good. It's comfortable, clean, and warm. Everyone is welcoming. Volunteers came in and cooked dinner for us. I don't know how we would've coped without it to be honest."
After a couple of years travelling back and forth for treatment, staying at the House when in Auckland, Kate became clear of cancer. She began to enjoy things like going to school, jazz, ballet and swimming.
However, just shy of her seventh birthday, Kate relapsed. Another long two and half years of treatment followed with frequent stays at Ronald McDonald House.
In November 2017 Kate was finally able to stop treatment.
The reprieve was short though. In January this year, during a family holiday, a child came down a waterslide after Kate, landing on the back of her neck and head. Kate had severe headaches that the family first thought were from the collision. They soon found she had relapsed again. This time she would need a bone marrow transplant.
The family moved back up to Auckland's Ronald McDonald House.
Jackie says throughout the family's lengthy journey, Ronald McDonald House has been their constant, especially for the children. "They've all grown up coming in and out of Ronald McDonald House for the past seven years – it is a familiar place for them. It is their 'home-away-from-home', they feel secure and safe."
Being able to have the whole family together at the House has meant the world to Kate, and has helped her cope better. "Kate just wants to be a normal child. Having your family together and playing with your siblings is a normal thing," says Jackie, "It gets her up out of bed. She is distracted, happy and with the people she loves. It's good for her emotionally, mentally and physically."
Having her parents close to support her has been particularly important for Kate. They have a tradition where Kate's dad takes her into theatre and mum is there in recovery when she is awake. "We've always kept our promise to her, and have been there every single time. It is just something that Kate's found comforting. She knows what's going to happen and who is going to be with her."
Being able to stay at the House has also reduced the financial burden faced by the family. As they haven't had to worry about paying for accommodation, they can put their resources towards keeping their farm running. "I'd hate to think what our journey would've looked like without the House. We probably would have had to sell everything and move to Auckland," says Jackie.
"Ronald McDonald House is a massive support system for families. I think everyone would be lost without it. We have appreciated everything that RMHC New Zealand has done for us. This would have been a heck of a lot more stressful without it."
Kate, now 10, is recovering from her bone marrow transplant. Her caring brother Fletch is doing well too, and is so pleased he could help his sister so much. The family are now back at home but continue to stay at Ronald McDonald House whenever Kate has check ups in Auckland.