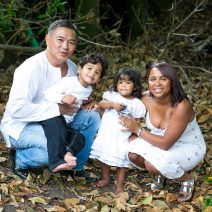 The Paggao Family,
Auckland
Cindy and Noel Paggao were faced with potentially life-changing news when they were told that their 1-year old son Noah had Sinus Venous ASD (a hole in his heart).
He was rushed to the National Children's Hospital and underwent emergency surgery. Ronald McDonald House Charities® (RMHC®) provided free accommodation and support which allowed Cindy and Noel to focus on being by their son's bedside. They said it was a huge relief to have things taken care of for them, and were glad that they "didn't have to travel up and down" between their home in West Harbour and the Hospital, at what was an incredibly stressful time.
"It was nerve-wracking and so hard. The doctors had to stop Noah's heart during the surgery and called us back when they started it again".
Having immigrated to New Zealand, the support RMHC offered them meant even more, because they have no family in Auckland. They were surprised by how much RMHC took care of for them – volunteer dinners and the fact that they had a roof over their heads so close to the hospital. Thankfully Noah made a swift recovery and was discharged from hospital about a week later.
During their short stay the Paggao's were inspired by the other families and the strength they showed through the hardships they had endured. Through this inspiration the Paggao family turned young Noah's birthday into a spectacular fundraising event! Their community all banded together; the family was supported by local musicians, mothers from Noah's play group and the Mad Butcher to name a few. This community spirit led them to raise over $2K for the House! The Paggao's lives were enriched by this experience as they were able to give back to a charity that helped them in their time of need, and ensure that future families in similar situations would be able to have the support of our 'home away from home'.