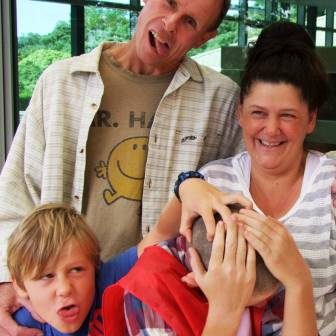 When Theo Chick was born on March 3 2015, his family were shocked to discover that their new child had a heart abnormality. Baby Theo had to be flown from Whangarei to the National Children's Hospital in Auckland for intensive care while his family stayed at Ronald McDonald House Auckland (RMHA).
Theo's older brother, 11 year-old Milan commented, "It's hard but it's good to know that he has the right people to support him".
Grateful for the support they received at RMHA, Theo's family wanted give something back. So super sibling, 11 year-old Milan Chick decided to have a hair-shave to raise funds for RMHA online.
"It was fun and interesting to see what I would look like without hair. At first my friends were laughing and teasing me, but after a while I got used to it", said Milan.
Milan's hair-shaving stunt was successful, raising $2,905 half of which went to RMHA and the other half going to NICU (Neonatal Intensive Care Unit). Milan shared his appreciation of RMHA saying, "It's really supportive because you're not split apart from your family, and you don't have to worry too much".
Thanks Milan and the awesome community behind this Family for all the amazing support!