It was the trip of a lifetime. Jake Pokai saved his paper run money for an entire year. He had been accepted at the prestigious International Rugby Academy of New Zealand – his chance to train and upskill with the best young rugby players in the world.
In November last year, 15-year-old Jake flew from the United Kingdom with his Kiwi Dad, Danny. Dad says, "It was meant to be a six-week trip." Two Christmases later, "We're still in New Zealand now."
When they first arrived in MIQ quarantine, Jake came down with fever. In case it was Covid, he was taken to hospital, but his tests were clear.
Released from MIQ, Jake was excited to attend the rugby clinic, but by the match at the end-of-week, he was exhausted. "We had to pull him off the field because his muscles were vibrating."
Was it just a change in fitness caused by MIQ confinement? To be safe, Dad took Jake for a blood test at the local hospital, near their whānau in the central North Island. The test results were so bad, a nurse came to their house that evening, telling Danny "you must take your son to Waikato Hospital now." Jake begged Dad to wait until the morning as he wanted to have dinner with Nanny at home.
They were at Waikato Hospital early on 16th December 2020 and Danny remembers it was here "They dropped the bombshell, Jake had leukaemia." We were told to leave Waikato Hospital and head to the National Children's Hospital in Auckland for immediate treatment.
Thanks to Ronald McDonald House, Danny and Jake didn't need to think about finding accommodation in Auckland, the week before Christmas. "Our journey started in the House on 17th December 2020. I remember the Christmas trees and decorations but everything else was a blur." Danny said.
Christmas Day should have been very different for the Pokai family. Jake and Danny were meant to be visiting whānau – aunts, uncles and cousins - who hadn't seen Jake since he was two years of age. Instead, Jake was receiving treatment in a hospital ward decorated with a small tree, tinsel and lights, courtesy of his Nanny and aunt. Meanwhile Danny was in autopilot getting the needed help for his son, half a world away from home.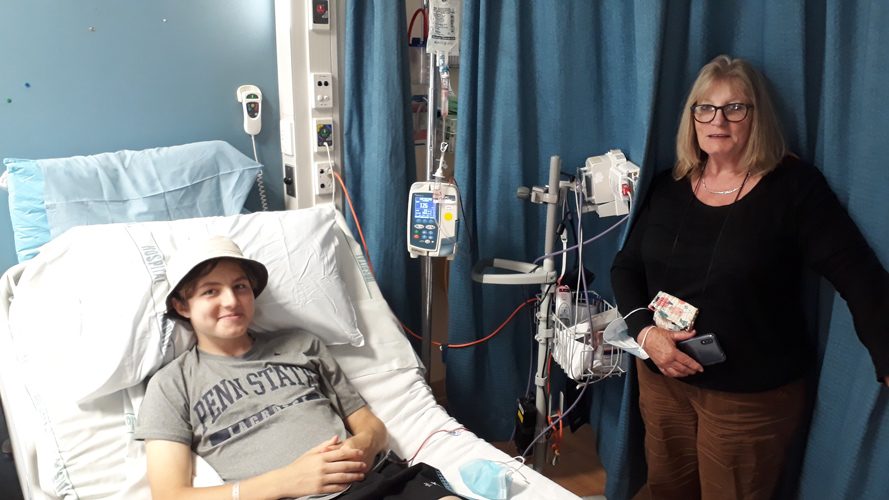 Jake was missing his Mum, of course, and his younger brother and sister. Mum Sarah was desperately trying to organise flights to New Zealand. Because of travel restrictions, it was February before they could all be reunited as a family. Sarah, Annabel aged 15 and Darcy aged 13, were welcomed by the staff and volunteers at Ronald McDonald House and the family quickly got used to the short walk across the hospital grounds to visit Jake.
Jake's siblings arrived just in time to enrol in nearby Auckland schools. Jake goes to school too, but chemotherapy has really knocked his concentration and stamina. Fortunately, his classroom isn't far away. "They have an on-site school at the House!" Danny exclaims. "It's literally underneath our room - so you can expect that Jake won't be late."
Because the family had missed Christmas together, the staff at Ronald McDonald House put on a wonderful Mid-Winter Christmas. "It was delicious and spread a lot of cheer to families in the House." It gave the Pokai family a tremendous boost. They loved the food, the presents and being together.
Late in August, the Pokai family made the hard decision that Mum Sarah, Annabel and Darcy would return home to the United Kingdom for the start of the school year.
Jake and Danny are staying at Ronald McDonald House in Auckland to finish Jake's chemotherapy treatment. They are grateful to be with other families at Ronald McDonald House, even when hearts are breaking. "You see their stunned expressions and bewilderment on their faces," Danny said. "I felt like that last Christmas." He says "They are on the same journey, the same trauma as you. You get to share your stories, express your feelings. It's quite therapeutic."
The father and son duo are looking forward to their second Christmas in New Zealand and will celebrate with the whole whānau at the bach in Coromandel, "even if it's not on 25th December," said Danny.
What was supposed to be a six-week trip to New Zealand could stretch out to two full years living abroad.
The Pokai family are incredibly grateful to Ronald McDonald House. "I don't know what we would do if it wasn't here," Danny says. "Although it's not a great time for us, we've had a great time here at the House. It's reduced the stress, the anxiety, all those pressures."
From Christmas to Christmas, Ronald McDonald House Charities® (RMHC®) New Zealand make it possible for families like the Pokai's to have the gift of time together, in a home so far away from home.
DONATE