For the Tiraha Cook's, Christmas was always a time filled with laughter, joy, and the warmth of whānau. But little did they know that the Christmas of 2022 would be unlike any they had experienced before, bringing them face to face with the harsh reality of a life-threatening illness.  
Meet the Palmerston North  whānau: Mum Ngaire, Dad Casey, four older brothers Isaiah, Tyrese, Elijah, Kapene, and the youngest, four-year-old Aria. Their world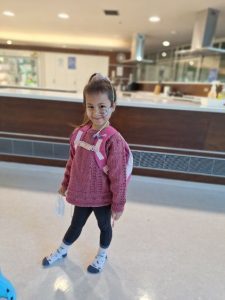 turned upside down on August 16, 2022, when Aria began showing mysterious bruising to her legs. A visit to the doctor led to a frantic phone call, and Aria was soon admitted to the hospital. A couple of days later, the family received the devastating news that no parent ever wants to hear – Aria had Leukemia. Their lives were forever changed, and they were immediately flown to the National Children's Hospital in Auckland. 
In the middle of this nightmare, they discovered RMHC® New Zealand, a bright light in one of their darkest times. Ngaire reflects on their initial encounter, saying "I had heard of the Ronald McDonald House but knew absolutely nothing about it." Something that is all too common amongst families with a sick child.  
After being told that she needed to stay in Auckland for another 4 weeks after already being in the Hospital for so long, her first thoughts were "How on earth am I going to afford to stay in Auckland for another month or so?" But with the help of a social worker and their national travel agent, the family were offered a room at Ronald McDonald House – Auckland Domain.
The moment they arrived at RMHC NZ; they knew they had found a home away from home. "As we arrived at Domain, Aria's eyes lit up. From being stuck on the ward for 6 weeks, not being able to go anywhere, to arriving at the Domain House with the awesome welcoming of the lovely staff. Aria absolutely loved it." It offered them comfort, support, and a chance to heal together.  
For Aria, having Mum by her side during this challenging journey was invaluable. Aria herself beautifully expressed this, saying "It's been lovely having Mummy with me. It means a lot to have Mum by my side through these tough times. My family has made me stronger, being there for me when I need them." 
But as Christmas approached, the Tiraha Cook whānau faced a heart-wrenching reality. They would be far from their home during a very sentimental time, separated from loved ones and the older brothers had to stay behind to work. Ngaire confesses "I was seriously dreading being away from home and family over Christmas. It broke me not all being able to be together." 
Christmas day arrived, and it was filled with a whirlwind of emotions. Aria and Ngaire were in the hospital, uncertain if they would be allowed to leave. Meanwhile, the rest of the family stayed at the Domain House. "So many emotions on Christmas Day with everyone being separated," Ngaire reflects; "We ended up getting let out of the hospital at lunchtime to stay at RMHC for the rest of our 25-day stay. When we arrived at the House, they had given us one of the apartments for our stay. We went to the room and OMG, we got there and more presents, socks, and an awesome Christmas food hamper."
Despite the physical distance, RMHC made every effort to create a special Christmas for Aria and her family, ensuring that the spirit of the season remained intact, and they could keep her family close. Their support services and resources had a profound impact, from the friendly staff to the chef who provided delicious meals. "The support you give families, especially during the Christmas period, does not go unnoticed," Ngaire says with gratitude.
RMHC New Zealand has been a lifeline for Aria, offering her the opportunity to connect with friends, keep up with her education at the Auckland Domain onsite school, and, most importantly, have her family by her side in her medical journey. "Having RMHC available for Aria and our family has been a huge lifesaver". 
To all the donors, partners, volunteers, and the rest of Aotearoa who support RMHC New Zealand, the Tiraha Cook family has a heartfelt message... 
"We would like to say a massive thank you to all the staff, volunteers, teachers, cleaners and the rest of the team at RMHC New Zealand. As well as 
everyone who supports and donates. There is no way we would have been able to do this without each and every one of you. You are amazing." 
In the face of adversity, Aria and her family found a loving and supportive community in RMHC New Zealand. Their journey is a testament to the power of compassion and resilient spirit of families who face adversity with unwavering love and hope. This Christmas, let us remember the children just like Aria, who will need invaluable support from RMHC New Zealand and to have their whānau by their side during some of their toughest times.