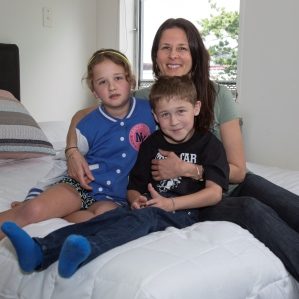 Mum Erica and her family have been in and out of hospitals since her twins Joseph and Sophia were born. Joseph was born with a number of health issues and for the foreseeable future he will need access to the specialist medical services only available at the National Children's Hospital.  As Erica notes, despite being away from home the Tebbutts find support from the Ronald McDonald House community.
         "The realisation that my family would need to spend so much time in Auckland and leave behind everything that we knew was frightening. But arriving at Ronald McDonald House for the first time we soon realised that it was a community of families living under one roof.  Being surrounded by people going through the same thing as you and who really understand the trauma you are going through is a great support.  It makes the House such a great place to escape to, to get away from the hospital and all the news the doctors give you. It's such a pleasant environment for me and my children to go to at the end of the day and makes Auckland seem like a much smaller place!"
RMH has become the House and city that Joseph and Sophia now think of as their second home. So much so that Joseph decided to fundraise for the House and he undertook a 5K wheel for the House completing the distance in his wheelchair in just 1 hour and 15 minutes and with his whole community behind him Joseph raised a fantastic $1970 for RMH.
This was just the start of the Tebbutt's amazing fundraising efforts. In 2014 the family 'adopted' two rooms and raised over $9000 with the help of their local community to cover the yearly maintenance of the rooms.
Since then Joseph and his twin sister Sophia have become the stars of a comic book given to siblings staying at Ronald McDonald House for the first time, helping to ease them into life at RMH.