She's not old enough to understand it yet, but when she is, Reese Harrison says she will tell her daughter about the role Ronald McDonald House South Island played in her earliest days.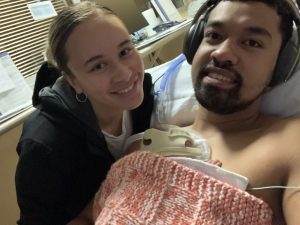 "I will tell Milah that Ronald McDonald House allowed us to become a family. It allowed us to become parents and be with her every day, and endure every step she fought through to be here."
Life as Reese and her partner Tupu knew it came to a stand–still in September 2020 when, at 23 weeks pregnant, Reese was flown from Invercargill to Christchurch by emergency medical plane. The young couple lived in Bluff and were expecting their first child together, due 7th January 2021. Instead, a week after the emergency flight, on the 17th September 2020 at 24 weeks gestation, their baby girl was born, weighing just 520g (1.1 lb).
Doctors told the new parents to "expect the worst and hope for the best". The baby would be immediately intubated, incubated and in the care of a Neonatal Intensive Care Unit (NICU) until at least her original due date. It was a lot for the new parents to take in and amongst it all, there was also the important task of naming the baby.
"We didn't have anything ready for a baby at home yet, and the list of names we had started didn't seem to fit anymore. So, our meaning that we found for 'Milah' was 'Gracious Miracle'. She also carries her two grandmothers' names as middle names, which felt right, as we know they are guiding her along her journey of life."
As it happened, stage one of that journey was 600km from home, meaning Reese and Tupu were also suddenly in need of accommodation. As soon as a room became available at Ronald McDonald House South Island, they were welcomed into a home-away-from-home.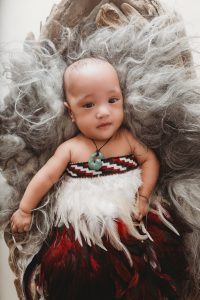 "When we moved into Ronald McDonald House in Christchurch it was a huge relief. We both had full time jobs back home which we could no longer attend. Our home, our cars, our life, it was all back in Southland. Having a safe, secure environment with no stress about bills, food or necessities was the one part of our journey that we didn't need to worry about."
Reese and Tupu quickly found the supportive environment at the House was just as comforting as the practicalities. "What sticks with us the most about the Christchurch House is the people. The staff and volunteers were always there to help, guide and support us with whatever we needed. The other parents were always lovely too. It was nice for us all to support each other."
During her first two months Milah faced many battles and suffered some heart-breaking setbacks. She endured pneumonia, infections, blood transfusions, and a harrowing period when "the doctors had to try everything to keep her here."
Then, at ten weeks old and 2410g (5.3lb) good news came as Milah was deemed healthy enough to travel to Dunedin Hospital, and just a week later she was transferred again to Southland Hospital. By this time, Reese and Tupu had been away from their home in Bluff for twelve weeks.
"We didn't know the Ronald McDonald Family Room at Southland Hospital existed and thought we would have to commute from Bluff daily. We dreaded the thought of returning home every night without Milah. Instead, we got the best surprise on arrival to discover the Family Room; and Helen had everything prepared for us – it was such a relief."
Milah was now eleven weeks old and weighed 2510g. She was on low oxygen support through a nasal cannula and was feeding through a nasogastric tube. Meanwhile, her parents settled into their newest home-away-from-home, just down the corridor.
Like all guests to the Family Room, they soon discovered that Supervisor Helen Walker "really does go above and beyond to ensure you have everything you need."
"The Family Room was so close you felt like you were still in the room with your baby, yet it's far enough away to catch a break too. We felt safe and secure, and the ease of creating a routine was good to slowly start getting into a 'ready to go home' headspace."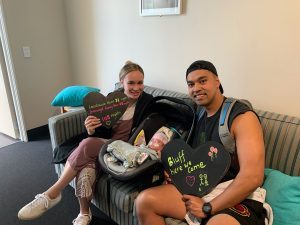 The weeks went by and before they knew it, Milah was spending her first Christmas and New Year's Eve in hospital.
"The volunteers who were working during the festive season were so amazing, they made it very special. The facilities were perfect too, as our family were able to visit Milah for Christmas and then we could all catch-up in the Family Room lounge which had a very homely feel."
Then, after more than four months in hospital and a total of 108 nights at Ronald McDonald House, both in Christchurch and Invercargill, baby Milah was discharged three days after her original due date weighing 3600g (7.9 lbs).
As Reese and Tupu took their baby girl home for the first time, they knew they would be forever grateful to everyone who supports the work of Ronald McDonald House South Island.
"Without Ronald McDonald House our family wouldn't have been able to stay a family."
To find out how to support families who stay at the Ronald McDonald Family Room, Southland Hospital, click here.