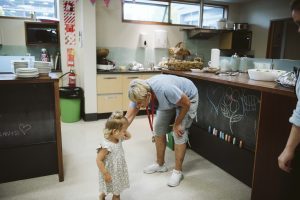 It's been a busy morning for Ronald McDonald House South Island overnight supervisor Jan Nottingham as she prepares for a well-deserved break.
With handover done, the kitchen cleaned, morning chats with families as they leave for a day at the hospital, Jan sits down to take a breather.
She places a booklet made for her by Natasha Hillary on the table. The first page reads "Dear Jan, you have a wonderful smile. Love from Natasha Hillary, age 8."
As we flick through the booklet, it is clear Jan has made an impact on Natasha. "I love you to the moon and back," another page reads.
Jan's eyes well up as she processes.
"It's so humbling."
The booklet is just one of many memorable mementos Jan has received over her eight years as Ronald McDonald House South Island's overnight supervisor. Each gift brings with it a distinct memory, time and place of a child whom Jan has become a part of their story.
"I have a whole cupboard full of gifts. Drawings, paintings, little boxes of necklaces, bracelets, and treasures- I've got them.
"If somebody comes back, I can say 'I've still got that necklace you made me' and I'll make sure to go to my cupboard and bring it to show them I've still got it."
In the past week alone, she has received a bracelet with her name spelt out in beads, and a paper flower from two different girls staying at the House.
It's not just gifts that Jan cherishes, but the little moments created in the every day.
"The other night, I was checking someone in and Brianna (Steedman), was standing there. I said 'Hi Brianna', and her mum Julia said, she's just waiting to give you a cuddle. It's like oh my gosh. It's pretty special and really humbling."
It seems like Jan was made for this role at Ronald McDonald House South Island, and yet it was a sharp twist of fate that got her here.
"I never saw myself doing something like this, but after the Christchurch earthquakes and a change of circumstances, I was essentially homeless with nowhere to go.
"At the time, they were looking for an overnight supervisor and a volunteer at the House recommended me. After two interviews, I got the job and never looked back. It really was a situation where one door closed, another one opened, and the door that opened was for the best. If I hadn't been in the situation I was in, I would never have been given this opportunity to find what I was really meant to do in life."
For the past eight years, Jan has been the constant face at the Christchurch House, and what she has learnt about families is to never judge.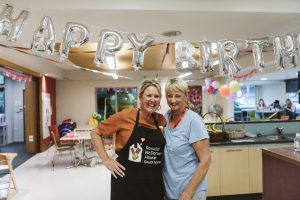 "They come in here shocked, and then after 2-3 days they then go to another level once they know what's going on or what their programme is. As time goes on, you connect more and more and they talk to you about what's going on.
"We're just their shoulder to make life easier while they're in this environment. That's our motto- to be a 'home away from home'- so how can we make your new home better while you are here? What can we do to meet your needs while you are here?"
For former house guest Sarah Davies, who has spent 469 nights in the House since 2014, Jan is what made the House a home.
"She makes time for every single person, whether it's the families or the volunteers, she makes time for them.
"When Jock relapsed, it was comforting to know that Jan would be there to embrace us and look after us. During that first week of our return, she prepared meals and special treats for us so that we could focus on Jock. She would consistently check in on us and was a shoulder to cry on. Jan made the rough days bearable."
For Jan, the role is simple.
"I just love it because I'm just me. I don't have to do anything else but be me."