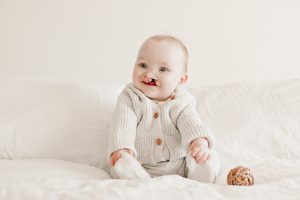 Stevie White and partner Clinton from the West Coast had spent more than 50 nights at Ronald McDonald House South Island prior to and after the birth of son Harvey. Harvey was born prematurely and has a cleft lip and palate which would require ongoing treatment in Christchurch. Stevie is sharing their journey with Harvey this year.
It's hard to believe Harvey is eight months old. He's got such a personality now- always has a smile on his face and full of giggles, he really is such a happy baby. He's developed such a special bond with my other two kids Naleah and Mason, I just love watching them together. Naleah in particular is like another mother to him, always fluffing over him making sure he's happy. He gets so much comfort from her, it's really sweet.
Lockdown for us was nice, we were really lucky. Ever since Harvey was born, spending time in the Neo Natal Intensive Care Unit and then coming home, it's always been go, go, go so it was nice to have some time at home enjoying the simple things, lots of bike rides, baking and board games.
Towards the end of lockdown, it was quite noticeable Harvey was still struggling with feeding. He was still having the majority of his feeds through a nasal tube. The plan was always for him to come home and establish feeding with his bottle over the coming weeks. But as time went on, and after trying a range of different things, it became clear that this potentially wasn't meant to be.
I had been looking into alternatives including Gastrostomy tubes (G-Tube/ PEG)- where a tube is inserted through his belly directly into his stomach. This would be a more permanent device for us to use to feed him. After discussing it with the pediatrician, he organised for Harvey to come to Christchurch and be assessed by the Cleft Team and Pediatric Surgeon to make sure this would be the best thing for him. After a week in Christchurch it was decided Harvey would benefit having a G-tube placed. We were really lucky and able to get the surgery done a few days later.
It was a hard decision to make to get the Gastrostomy done. After all, it was another surgery and it's not particularly nice knowing your baby needs that, but the results have been amazing and it's taken a lot of stress away from Harvey, myself and Clint.
Being in Christchurch and not being at Ronald McDonald House was so strange. Clint came over and stayed in a hotel fairly close by, but it was nothing like all those home comforts you get at Ronald McDonald House.
During Harvey's recovery we were able to go for walks and often walk past Ronald McDonald House. It was closed up and we couldn't just pop in and say hello, it was a very strange time.
Recovery from Harvey's PEG surgery was hard, but since then, it's been going really well for him. It has been amazing seeing his wee face without all the tape and nasal tube. For us being able to feed him and not be in his face re-sticking the tape down or reinserting the tube has truly been life changing. Within a couple of weeks we noticed how much more relaxed Harvey was becoming when we touched his face and he even started to show more interest in his bottle.
In June, we were back in Christchurch for Harvey to have his lip repair done.
Everyone was really excited for us that he was getting it done, but I found it really emotional. I'd grown so attached to his big wide smile and he's your baby, you just can't imagine him changing, you just love how they are. I look back now and think about his little cleft with so much love, but his new smile is just as amazing.
This time we were back at Ronald McDonald House. We hadn't seen anyone since January so it was really cool to catch up with Jan and all the family, and for them to see Harvey.
Clint stayed at the House while I stayed at the hospital with Harvey. It was great for Clint to have that home base to come to and from and the support network that went with that. It's something we will always be very grateful for.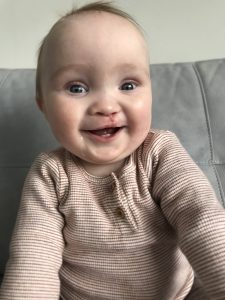 Harvey's procedure went great. We were just totally blown away by the results. His recovery has been going really well. One day after surgery he was already showing off his new smile.
In the next month, we will be back to get Harvey's mickey button which will replace his PEG, then at 11 months he will get his palate surgery done.
That will be his biggest surgery so far. Now that we've had these other ones done, my mind is now focused on his palate repair. We've been told recovery is pretty hard on them, but it will be good to get it done before Christmas.
By the time his first birthday comes, he would have had four surgeries, and has faced many challenges with his feeding. We are so proud of him and how resilient and strong he is, we are very lucky.
Check out part 1 of Stevie's story here.
For many families staying at Ronald McDonald House South Island, treatment can span many years, with trips to and from Christchurch. Knowing there is a 'home' waiting for them can help alleviate the stress. Become a regular giver today and help ensure families like Stevie's have a place to stay now and in the future. Click here to become a House Warmer.