The Hollran family of eight live in the very small town of Kihikihi just outside of Te Awamutu. Mum Awhi and dad Alex have their hands full with six children at home – aged from two to 17-years-old, along with two family dogs. Life in late 2019 consisted of school, sports training, weekend sports and spending time with whanau – it was hectic but all the Hollrans knew. Then a shock diagnoses for twelve-year-old son Tyson came out of the blue and turned their lives upside down.
"The 2019/2020 touch season was coming up and Tyson was nine years old at the time," mum Awhi explains, "he had made it into the under ten boys touch rep team. He had three tournaments to play that season and it was during the last two that he started showing signs of struggle." Tyson was tiring easily and wasn't planting the ball the way he usually would. Awhi and Alex put it down to tiredness as their boy was growing fast, but in mid-February 2020 Tyson began complaining of a sore back and Alex noticed his gums were white when he smiled.
"We made a doctor's appointment for Tys to get checked over – the doctor didn't seem too concerned, but he ordered a blood test just in case," says Awhi. Just hours after that test the phone rang, and they were advised to take Tyson straight to Waikato Hospital. The doctor explained Tyson may have a blood infection, and that they'd have to travel to Starship Hospital the next day. "The doctor left the room and Alex mouthed to me 'it's cancer'," Awhi says, "I laughed and said – don't be silly, it's just an infection – they'll sort it out in no time." They arrived at Starship the next day and were taken to the seventh floor – Haematology and Oncology. As they were walking past the rooms on the ward Tyson turned to his mother and said, "I'm not gonna look like that eh mum?"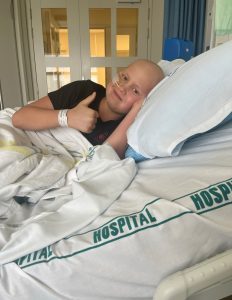 The next day the doctors advised that Tyson had very high risk b-cell hypodiploid lymphoblastic leukaemia. Awhi explains, "time stopped hearing that diagnosis. Luckily Alex and I were both with very good friends at the time – we all cried. I will never forget that phone call."
Tyson began treatment which included chemotherapy, blood transfusions, lumbar punctures and medication for temperature spikes. He responded well and in July 2020 Tyson entered remission. "Our main doctor – Oncologist Dr Andy Wood called us to tell us the news. We put him on speaker and Tyson balled his eyes out, we were all so happy with the news," Awhi says. However, Tyson was advised to check his body for lumps – leukaemia cells love to "hide" in certain areas and while nearing the end of his treatment he found a lump. They mentioned this to his doctors and he was given an ultrasound which uncovered a black shadow – unfortunately, this meant Tyson had relapsed. "We were all absolutely devastated," Awhi explains, "Tyson's new diagnosis of 'b-cell hypodiploid isolated testicular relapsed acute lymphoblastic leukemia' is so rare that Starship had never seen it before. Their contacts overseas hadn't either."
Tyson began chemotherapy again in April of this year, and his treatment plan depends on whether or not he goes into remission. The lump has so far decreased by half and he has undergone 12 rounds of radiation. The family are hopeful the next ultrasound shows enough progress that Tyson won't need a bone marrow transplant – but they will have to wait to find out. There have been some challenging times, such as when they found out Tyson will never be able to have children – but the family have remained a close unit throughout.
With the uncertainty of Tyson's diagnosis and treatment, the family have been extremely keen to be close to him. "Ronald McDonald House has been the biggest help," Awhi says, "it means that we've all been in Auckland with Tyson – we were there for 22 weeks when he started treatment, and continue to be by his side thanks to Ronald McDonald House."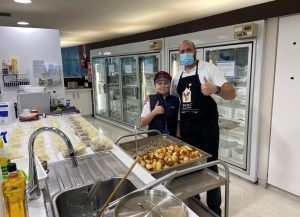 Due to the size of the family, they were given an apartment within the Domain House – meaning they have a completely self-contained area to utilise as a family. "Our younger kids love to interact and made friends in the House straight away – they'd all hang out in the communal space downstairs," Awhi says, "Tyson loves to cook and the chef Heath has been amazing – allowing Tyson to help him cook on a few occasions."
The family loved how spacious the House was and found the staff to be lovely and welcoming. Knowing that when Tyson and Awhi were on the ward that their family was just down the road was a godsend, and Awhi can't quite put her gratitude into words. "Thank you so much to the Ronald McDonald House team – and for all the people who support and donate to them. We honestly wouldn't be able to do this journey without them."