The Passeri family of Bay of Islands consists of mum Daniela, dad Fred and baby Zavier – their "miracle baby". Daniela loves being around children – in fact, she decided to change jobs from psychometry to ECE to make it her full-time career. In 2019 the couple began to try for a baby and needed fertility treatment, including an egg donor and frozen embryo transfer. Three years later, they were six weeks away from giving birth to their son – when plans changed. Daniela shares their journey below.
On the 1st of August I thought it would be just an ordinary Monday morning. I woke up feeling crampy but put it down to just morning sickness and cramps from food. I went to the bathroom before leaving for work – and that's when a gush of blood changed everything. That's it, I thought – it was too good to be true for an infertile person to become a mother. I thought it was the beginning of a miscarriage. I called my amazing midwife Romany Beaumont who activated her colleague, my other amazing midwife Rebecca Kiff, to meet me at Kawakawa hospital as soon as possible. I organised my brother to take me there and we met Beks who quickly organised IV lines and steroid shots, in case the baby was coming. To my relief, to my delight, like taking a breath after a long time underwater, Beks said, "there's a heartbeat. We have a heartbeat." My baby was still alive.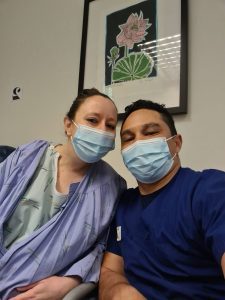 The next few hours were a whirlwind of professionals and transport. I was ambulanced to Whangarei hospital, and after noting that I was still bleeding, helicoptered to Auckland City Hospital. Poor Fred was working away from home and had to turn around to drive back to Auckland to meet me. After arriving at the hospital, I was taken to the maternity assessment ward, where I was cared for by a lovely midwife named Emily. The next morning I was sent for a growth scan to see what was going on; I was exhausted from the blood loss. The diagnosis was placenta previa, a condition whereby the placenta grows over the cervix. Luckily, the baby was absolutely fine - we were okay!
Over the next 20 days, I was hospitalised at Auckland City Hospital. Fred stayed with his family at Muriwai, working during the day and visiting me at night. Eventually the option to stay at Ronald McDonald House came up, and I got to check in to Grafton Mews. After 20 days in hospital, I had no idea what to expect, but Ronald McDonald House brought such a sense of relief. The staff were so friendly and kind. I was nervous to be staying in a new place, but who could be nervous when you had such wonderful people making you feel so welcome.
One amazing staff member, Jamie, told me that the House tries to make everything easier for families already facing a hard time. We were constantly blown away by the cleanliness, the friendliness, and the comfort offered. After a long, hard day at hospital, nothing was better than coming home to the warm, friendly faces at the House. Jackie, the phenomenal manager, ensured we were moved to a room that fit us should our baby make an appearance early. This was where Fred and I started to heal from the traumatic journey we had endured. One of our highlights was getting home from a long day of scans and getting to see the amazing staff members, such as Jean who is so lovely and who always checked in on us no matter how busy she was. The level of consideration from the staff constantly blew me away. If I needed to change chairs or tried to carry anything – the staff would be there in a flash to assist me.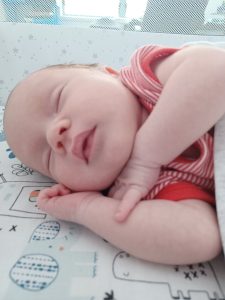 We stayed at the House for two weeks before the hospital informed us that I would need to undergo a Caesarean section, as my placenta had stopped functioning optimally. Finally, on the 22nd of September, we got to meet our baby boy – our miracle that we had worked and prayed so hard for. He was here, safe and healthy – the most beautiful thing I had ever seen. Unfortunately, I was rushed into theatre to have multiple procedures as I bled heavily after the birth, which led to five more days of recovery in hospital. We were discharged from hospital and could not wait to get back to the warm, familiar feeling of Ronald McDonald House.
We could not be more overwhelmed with the love and support we received from the amazing staff who supported us while we brought Zavier into the world. I remember thinking all I wanted to do was give back to this amazing charity, for everything they had done for us. I could not be more grateful. I would love to take this opportunity to thank the amazing organisation that is Ronald McDonald House, for all they did for me and my family, and the wonderful staff at Grafton Mews. A particular acknowledgement to Jackie, Jean, Jamie, Claire and Sulu at Grafton Mews, you were our family away from home who kept us going. All our love, Dannii, Fred and baby Zavier.