Kelly Potatau received news at a 26 week scan that no parent wants to hear. Her baby had a rare heart condition called Tetralogy of Fallot (TOF) and she would need to travel to Auckland from Kerikeri two weeks before her due date in case of early labour.
Being a single mum of three beautiful children, Ivory (17), Niiwa (14) and Khiaahn (5), with a fourth on the way, Kelly was extremely worried about her baby and moving her family to a new city.
This is where Kelly first came to know about Ronald McDonald House Charities® (RMHC®) New Zealand after finding out that her family had a safe place to stay close to the National Children's Hospital.
"I knew absolutely nothing about Ronald McDonald House. My first impression was how homely it felt. My kids loved it and were over the moon that they could go play with other families. Every family is loving and caring and the staff are beautiful"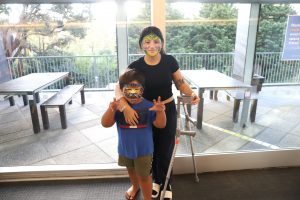 Niiwa and Khiaahn enjoying the Ronald McDonald House Auckland mid-winter Christmas party earlier this year.
Kelly was concerned about education for her children and was pleasantly surprised when she found out about the Ronald McDonald Auckland On-site School. "It was my five year old's first year of school and I thought what am I going to do for education? When we found out about the school, it meant I knew they could learn while I visited the hospital."
On the 30th November 2020, Kelly welcomed her baby boy Jack Cocker into the world.
On top of Jack's TOF condition, he was born with many complications. At only 2 days old Jack underwent colostomy surgery to bring one end of his large intestine out through his abdominal wall and into a stoma bag. Following this, Jack needed to have surgery for imperforate anus as he had no opening at his bottom.
"There was so much happening within such a short period of time, but we have got to know the reception, the maintenance men and everyone so well. The team are always asking if you are ok – to be honest, the love we get from everyone is mind blowing."
In early February Jack had his first heart surgery, which went well. However, during recovery his airway collapsed and he needed to undergo a tracheotomy to re-open it.
Every week, and sometimes twice a week baby Jack goes into theatre because he has granulation (scar) tissue that keeps growing in his airway and he can't breathe, but he always has his family by his side.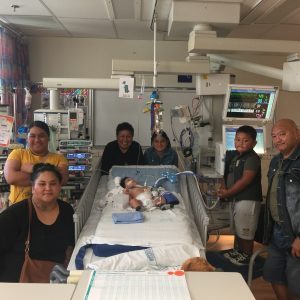 Kelly couldn't be more grateful for your support while Jack receives his treatment.
The doctors are able to slow the granulation but they can't get rid of it. In their medical journey to date the Potatau Cocker family have stayed at a Ronald McDonald House for over 270 nights and know they have a 'home-away-from-home' while Jack continues treatment.
On top of an already stressful time, Kelly was dealt another curveball when New Zealand went into Alert Level 4 lockdown on the 17th of August.
"It's been hard, extremely hard. It happened so quickly and it was so unexpected, I couldn't get my kids back home because family were working and I couldn't rush them home because I needed to be here for Jack."
Kelly is so grateful for RMHC New Zealand, she talks about the amount of support she has received from staff, volunteers and other families but going into level 4 has been extremely difficult.
"It's hard because I can't take kids to the hospital, I have to leave them at the House. But this is where the House comes in, they check on my kids all the time so I can see Jack."
Families like the Potatau Cocker family are relying on our essential service to ensure that they can stay together as a family during this Delta outbreak. If you'd like to help more families like the Potatau Cocker, you can make a kind donation here.
"All the families that go through a Ronald McDonald House, that are still here and are yet to come truly appreciate your donations – no matter the size. It impacts our lives and you have given us a home away from home. We couldn't be any more grateful for what you do for us and are very thankful." House mum, Kelly.