My family were fighting by my side. Giarni and the Thompson-Dockery whānau
As a bubbly eleven-year-old girl Giarni was looking forward to Christmas at home with her whānau. What she didn't know was that she would be fighting a rare form of cancer a long way from home. But Giarni wasn't fighting alone, she had the things that matter most right by her side – her family.
Giarni noticed a little lump on her left foot six months prior to her diagnosis. "We thought it was a spider bite and assumed it was nothing" says Mum, Tina. A month later the lump got bigger and Tina, took Giarni to the doctor. They thought nothing of it.
Over the next few months, the lump got bigger and bigger but Giarni didn't complain. In November, she was referred to a specialist and immediately sent to Taranaki Hospital for an MRI. Starship Hospital called the following morning and Giarni and her parents, Tina and Chris packed their bags for a daunting trip to Auckland.
It was here that their whole world shut down. A biopsy and x-rays revealed Giarni had Rhabdomyosarcoma, a rare form of muscle cancer. It had spread throughout her body to her lungs and bones. Her fight began.
The rest of Giarni's whānau, including her three older brothers, Storm-Lee, Greegan, Sirr, sister in-law Mariah, and 2 year old niece Evie travelled from Taranaki to be with her. Together they told her the news. "She lost it, as you would.  We all lost it."
With the whole whānau in Auckland, Ronald McDonald House® provided the Thompson-Dockery family with a wonderful place to stay, completely free, right when they needed it most. "From the start, we knew Ronald McDonald House was taking care of us. It was all taken care of.  A home away from home."
Tina and her whānau were incredibly grateful to be so close to Giarni at this time. "Ronald McDonald House took away a lot of the emotional drain" at a very stressful time. Thanks to the people and companies who generously support Ronald McDonald House Charities® (RMHC®) New Zealand the whole family were able to stay on the hospital grounds.
Her brothers decided they wanted to do something to give back. "Look at what Ronald McDonald House has done for us.  No questions asked." But what they didn't expect was so much support from the local community.
When Giarni was diagnosed with cancer her family said "what she goes through on this journey, we will go through as a whānau with her." As Giarni and the rest of her whānau shaved their hair off at Hawera Primary School, they were joined by their wider family, friends and local supporters from the Taranaki community.  In fact, nearly half of the local community turned up to support the Thompson-Dockery whānau shaving their heads, raising an amazing $8,590 for RMHC New Zealand!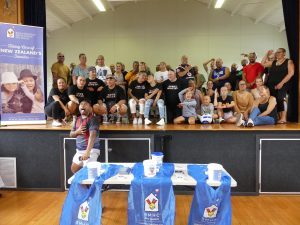 Giarni's shave off at Hawera Primary School
Giarni loves coming to her "second home" at Ronald McDonald House. She has been visiting once a month for treatment since November and had her last treatment in May. She will then be visiting once every two months for check-ups as she moves to maintenance care. Mum says Giarni has copes really well and "overcome so many hurdles for her age."
Tina would like to thank all of the supporters for their contributions to Ronald McDonald House "from the bottom of my heart, from my whānau to yours." With their dedicated support Giarni was able to join the fight with her family right by her side.