A Big Difference for a Tiny Baby. Little Olivia and the Wangdali Family
Gwynn Wangdali was just over halfway through her pregnancy when her waters broke and she went into labour. As a nurse, she knew how dangerously premature her baby would be, at just 24 weeks.
Desperate to hold still and delay her baby's birth, Gwynn was told she had to fly more than 400km by air ambulance – through a wild storm – to Wellington Hospital, without her husband Oliver.
Weeping, she cried, "I don't know anyone in Wellington. I really need my husband with me." When they saw how desperate she was, Oliver was allowed on board.
The wind and rain were so bad, they couldn't land in the capital. Their plane was diverted to the Kapiti coast, adding an hour by road to their emergency journey.
It was a very frightening time. "We were in shock. Is this really happening?"
Oliver hadn't thought about his own needs at all – where he would sleep, what he would eat -  but mums of prem babies need dads alert and well-rested. So, right on the first day, their social worker told them accommodation had been arranged for Oliver literally across the road, at Ronald McDonald House Wellington.
"We were so relieved," said Gwynn. At any moment's notice, Oliver was right where his wife and unborn child needed him to be.
For the next week, Gwynn and the hospital staff did everything humanly possible to keep her baby from being born.
Finally, at 25 weeks, their wee girl would wait no longer. Their incredibly tiny daughter was welcomed into the world. Little Olivia weighed less than a kilogram.
You have seen the pictures of tiny babies in incubators, tubes running in and out of their unbelievably fragile bodies. That was Olivia – a 'micro-preemie' baby, fighting to live.
Six days after Olivia was born, mum was able to leave her hospital bed and join Oliver at Ronald McDonald House. She was astonished by the quality of the accommodation your generosity has provided for her family.
"It's like a 5-star hotel. It's really nice. The house. The bedrooms, it's a complete package, like a home-away-from-home."
The format of the room was perfect for this recovering mum, with a queen bed and a king single. Gwynn felt so cared for and looked after.
"The staff were so helpful. How's Olivia? How are you guys? You feel so important."
After two weeks, with Olivia in the Neonatal Intensive Care Unit (NICU), 5-year old big sister Hera came to stay.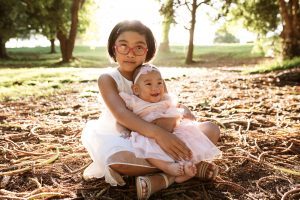 Olivia with her big sister Hera
Hera loved Ronald McDonald House! There was so much to do, Gwynn says: "the playground, outdoor park, the art room." Hera had just turned 5, so she even started attending the nearby school.
The Wangdalis got to try out the Family Room. Gwynn was impressed, not only with the built-in kitchen, but with the way the room was designed for people with disabilities.
All of this has made Gwynn wonder: "What would have happened to us without Ronald McDonald House? It gave us a sense of security. All the people, the staff and the other families, they became like old friends."
This is especially true for families with a child in NICU. "Having a premature baby is really a roller coaster journey. At Ronald McDonald House we see each other when we are cooking. There are shared meals. You've always got someone to talk to."
After three months, Olivia was strong enough for the family to take her back to their hometown. It was a tearful farewell. "We had a shared dinner and we all cried. We were all friends with the families. I was telling my husband, it feels weird. I don't want to leave Ronald McDonald House!"
When Gwynn shared her story with us. Olivia was still in their hometown hospital, but she is doing very well. She is breathing on her own, she just needs a little extra air pressure to help her lungs expand. She is still feeding by tube, but she is learning to breastfeed.
Gwynn says that without your generosity through Ronald McDonald House, she would not have been able to cope with the stress of Olivia's birth and her months in NICU so far from home.
"We are really, really thankful for the sponsors and all the volunteers that are helping Ronald McDonald House. It's amazing what they do. It really helps families who are away from home, who need to be with their kids and their babies that need treatment. They don't know how much they touch our life."

Thank you. You have made a very big difference for the family of an incredibly tiny little girl.