The door to the elevator at Ronald McDonald House in Christchurch opens and out pops seven-year-old Ajah King.
It's been a good night, and she races around greeting the staff with a big hug. After more than 137 nights at the House, the Ronald McDonald House South Island team have become like family, and the House like home.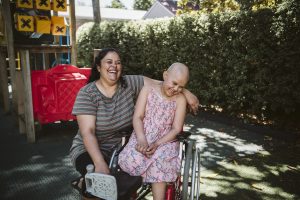 "She's a very social butterfly," Mum Sharon Hockings says.
"She loves the team and it's funny because they know as soon as those doors open on the lift what sort of mood she's in depending on how she greets them."
It's hard not to be in awe of her daughter and the way she has handled life since being diagnosed with a form of bone cancer back in September.
It began with a simple schoolyard injury.
Ajah had been running around playing with her friends when she fell and sprained her ankle. Doctors initially thought she'd damaged her Achilles Heel, and so ordered an ultrasound. But nothing came up and they strapped her ankle believing it would come right in its own time.
As the week went on, the pain got worse until Ajah could no longer walk on that leg. A follow-up x-ray revealed a mass, but doctors were unsure what it was and said a biopsy would be required at some point.
"Two days later I got a phone call saying pack your bags you're going to Auckland for a biopsy at 6pm tonight. It was a mad rush back home and I packed a bag full of things I didn't really need," Sharon remembers.
It was a week before the results came in confirming the worst – Ajah had osteosarcoma in her shin. The tumour was so aggressive it had split her shin bone.
"In the same sentence as her diagnosis, they told us that they were going to have to amputate her foot.
"How the heck do I tell a seven-year-old girl that she's going to wake up from an operation and have no foot – and that was going to happen in three days?"
Sharon explained the situation to Ajah, telling her she had a bad bug in her body and the only way they could get rid of it was to have her foot taken off.
Three days later, Ajah's leg was amputated.
"She woke up from the anaesthetic and the first thing she wanted to do was look at her leg. She pulled back the covers and saw half her leg had gone, not just the foot as we originally thought."
After the initial shock, Ajah has taken the situation in her stride.
"It was a pretty full on couple of weeks going from a sprained ankle, to having cancer, to you have to get your leg amputated. But she's been absolutely amazing.
"She has her moments, as you would, but she's just accepted everything and taken on the challenge and just gets on with it. It blows me away and has given me so much strength because she's amazing."
After two weeks of recovery in Auckland, Ajah and Sharon were transferred to Christchurch to begin chemotherapy. It was here genetic testing found Ajah had inherited a gene mutation which made her susceptible to developing cancer.
The sprained ankle which had led to the discovery of the tumour had literally saved her life.
It was Ajah's grandmother who was the first to stay at Ronald McDonald House, as Sharon stayed with Ajah in hospital for the first two weeks.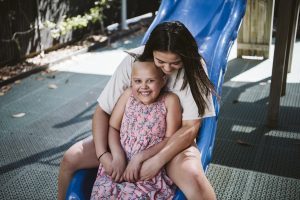 "Mum couldn't get over it," Sharon says. "She'd talk about what a great place it was 'and they cook dinner every night for you! It's just amazing'."
Since arriving in Christchurch, Ajah and Sharon have become close friends with two other families dealing with the same bone cancer, one of whom is also staying at the House. One family is a month ahead with treatment while the other is a month behind Ajah.
"It's really scary. What made me scared the most was not knowing. Not knowing what to expect from chemo, not knowing what's going to happen, how Ajah is going to react to things, that was the scariest part.
"But then hearing from other families going through the same thing and hearing you're doing the right thing, it helps and doesn't make you feel so bad. We talk to each other about things that happen, what to expect and what could happen and if any of that pops up, we share a hug here and a tear there between us, it's good having people to talk to."
Likewise, Sharon says the Ronald McDonald House team members have been an amazing support to her.
"They genuinely want to know what's going on and they ask you. It's not just a quick Hi, but they'll come and sit with you and talk to you and ask what's going on and what's happening and just muck around with Ajah. She'll put herself in the office and say she's got a job while I'm on the other side telling her to get out of there. But they let her hang out for a little while."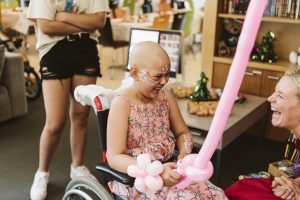 The House Christmas Party was also a particular highlight thanks to so many generous people donating Christmas presents for families at the House.
"There were a lot of laughs and fun times together, which is how Christmas should be – spent with friends and family."
While Ajah is only half way through her treatment, Sharon says the support for her family from their friends and community in Wellington has made being away from home a little bit easier.
For anyone who has donated their time, services or money to Ronald McDonald House South Island, Sharon has two words – Thank You.
"Just the impact you have on the families by donating and allowing this service to continue is amazing and takes the weight off everyone's mind."
"When you're in the crux of a situation like ours, your mind is all over the place as you've just been given this diagnosis and you don't know what's happening and you don't know what to expect. You don't really think about the little things like I need to do washing or have dinner. But then being at the House, everything you need is there. That is thanks to you – the supporters of the House."
Become a House Warmer for Ronald McDonald House South Island and your regular donation will give families with a child in hospital what they need the most – each other.