It wasn't until November 2020, when her son Buddie was born at just 36 weeks, that the significance of the Ronald McDonald Family Room in Southland Hospital really hit home.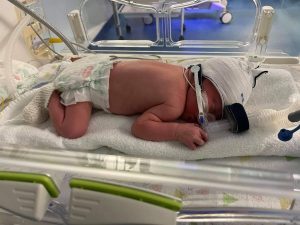 "I'd had a few complications during my pregnancy and had been monitored pretty frequently as a result. At 36 weeks, I ended up having an emergency caesarean and Buddie was born.
"He had a few minor issues which required him to stay in the Neonatal Unit for a week and I was lucky enough to be able to stay at the Ronald McDonald Family Room to be close to him."
A cause close to the heart
Ronald McDonald House South Island had been the Charity of Choice for the Southern Steel during Wendy's captainship and the team often visited the Christchurch House to meet families and show their support. Those visits really hit home for the team.
"It touched us all in different ways. It was quite emotional, but in the same breath, it was just humbling to see the amazing support Ronald McDonald House South Island gives families who wouldn't necessarily be able to be together without the House. The families just had a huge amount of gratitude for the generosity of people who supported the House and it was obviously an important charity doing great things for New Zealanders."
When the Ronald McDonald Family Room opened in Southland Hospital in 2013, the Southern Steel continued their support by baking and visiting families when they could. Even after her
netball career ended in 2018, Wendy has continued to support the Family Room.
"It's important to keep giving to the things that are important to you, and this is important to me," she says.
An unbelievable place
Having now stayed in the Family Room herself, Wendy has an even greater appreciation of the work Ronald McDonald House South Island does.
"It's an unbelievable place," she says of the Family Room.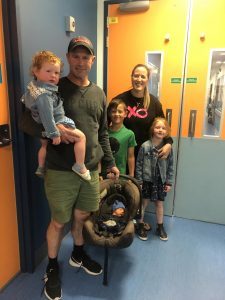 "I had been in there, and knew what was available, but for me I didn't really know.
"I didn't know how much having access to a washing machine, or having your family be able to visit meant. I didn't know how the meals they give you, and people bringing in baking and food ensures you're not worrying about cooking when you've got a new born in Neonatal.
"Utilising the facility itself bought home just how vital this place is for the people of Invercargill, Southland, and Otago region."
For Wendy, it was particularly important her three other children were able to come to the Family Room and spend time with her.
"A lot is going on when you're a new parent and with three other kids, it was important to be able to get that time with them as well and making sure they were feeling comfortable and knowing Buddie was going to be okay."
Wendy's older two children Archie and Indie regularly popped in after school to do their homework, chill out and just spend time with their mum.
Likewise, being so close to Buddie meant Wendy was able to bond with him and able to feed him at all hours of the day and night when required while also having her own space to sleep, eat, and have a shower.
"My sister went through a similar situation but she had to drive home every night for 45 minutes and leave her boy in hospital. Knowing she had done that was heart-breaking, so for me being able to be metres away from where Buddie was sleeping, it gave me a real sense of peace."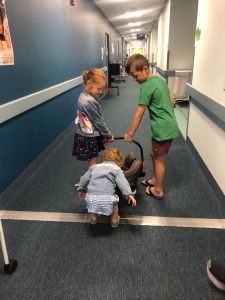 Thank you
Back at home and with Buddie doing well now, Wendy has two words for those who donate time, money and food to the Family Room – thank you.
"It's quite overwhelming how kind people are," Wendy says.
"They don't know who you are or what you're going through, but they drop food in, and for a lot of people in there, that helps keep them functioning. It makes such a big difference."
For those who want to give back, Wendy recommends baking a cake, or making a soup or meal for those staying in the Family Room.
"It might take a small amount of time out of your day, but it makes a huge difference to those staying in the Family Room. It might not seem like a lot, but you feel very grateful and humbled as the person on the receiving end."
If you would like to donate items to the Ronald McDonald Family Room, Southland Hospital, please email Helen at [email protected] to find out what families need at any given time or donate to the Ronald McDonald Family Room here: https://rmhsi.org.nz/shop/