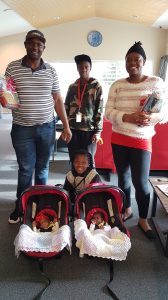 In May, they were transferred to Southland Hospital and stayed in the Ronald McDonald Family Room for 50 days as the twins continued to gain weight.
The ability to have her family close, including husband Jonathon and children Jay-Jay and Rebecca was a godsend.
"We are forever grateful that while we were in a very scary situation with our babies, we were able to come to the Family Room and stay away from the clinical environment and have the feeling of home.
"The Family Room has given us the ability to continue as a family for the last two months and we are so humbled," Sovinah says.
"The staff and volunteers were amazing and do such an amazing job."
Sovinah was able to bond with other mothers in the Family Room and even learnt to crochet from them.
"Ronald McDonald Family Room was our home away from home which we just really appreciated."