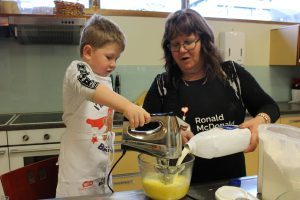 If you've ever walked into the Christchurch House early in the morning and been met by the homely smell of carrot cake, cheese puffs, or muffins then you've probably encountered Janice Cannon.
Janice has been part of the Ronald McDonald House South Island family since March 2019 when she came from Koromiko to support daughter Rebecca and granddaughter Alivia through Alivia's cancer treatment.
An avid home baker, the opportunity to bake for the families staying at the Christchurch House has been Janice's way to give back.
"At home I used to spend my weekends baking for family members and stocking up the cake tins for the week ahead.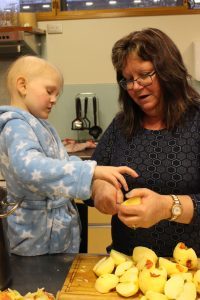 "We were at the House one day and I decided to fill in some time here by baking – everyone needs to eat – and it grew from there. If I spend $100 a week on baking ingredients, that's my way of giving back because without this place, I couldn't be down here supporting Rebecca," Janice says.
Needless to say, Janice's home-baked goods are always in hot demand with families!