During the COVID-19 lockdown period, RMHC® New Zealand supported more than 250 families - all thanks to the support of caring Kiwis.
Kiwis across the country joined together to help families with a child in hospital during one of the country's most trying times – and blew us away with the amazing response to our Crisis Appeal.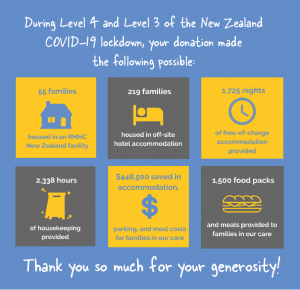 The Duthie family was one of those who needed support during this time. 13-year-old William was recovering from his second bone marrow transplant when the COVID-19 outbreak began.
You'll be happy to hear that he and his mum Sandra have returned to their home in Invercargill after a six-month stay at Ronald McDonald House®.
Here's what Will's mum Sandra had to say:
It's only because of the support of generous Kiwis that families like the Duthies have a safe place to stay during their child's hospital treatment. Thank you for keeping families together during one of the toughest journeys of their lives.
The journey isn't over yet. Hundreds of families still need your help as hospitals return to normal and their child receives long-awaited treatments. Please consider giving a donation today.
You can also follow us on Facebook to keep up to date with all the wonderful things happening at Ronald McDonald Houses around New Zealand.