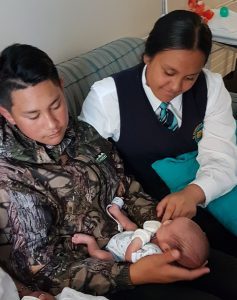 "My blood pressure was really high, so they made me stay in hospital overnight after the scan. The next day, my blood pressure just wouldn't go down so they decided to take him out," Linda says.
Te Taitonga was born on November 4, almost two months before his 1 January due date.
For 31 nights, the Ronald McDonald Family Room in Southland Hospital became home to Linda, and at times, her children – Rongokui and Tenaera, Rereahu and Takotokotahi while Te Taitonga grew stronger.
"The neonatal nurses referred me to the Family Room as it would have been a 45 minute drive from Gore each day and I had other children.
"It was great having them there as the kids go to school in Invercargill, so I was able to drop them off and spend time with them and it was really good for them to bond with the baby – they adore him."
The family are now back home and Te Taitonga is now 9.5 pounds and doing well.
Linda says she's so grateful to the staff, volunteers and supporters of the Family Room who enabled her family to stay close to their baby in those early days.
"It's a privilege to stay in a place like that. There was no stress and we were so well looked after. We're so grateful for the food, comfortable living room, nice and tidy bedrooms and the facilities to wash and dry our own clothes, as well as the wonderful playroom for the kids and yummy baking and meals.
"The staff and volunteers became part of our family while we stayed there. We will never forget the kind-hearted people who took care of us. The talks and advice, and the little things would make me smile. Ronald McDonald Family Room has definitely become a 'home away from home' for us."
In 2019, 135 families stayed at the Ronald McDonald Family Room in Southland Hospital. If you would like to donate specifically to the Family Room, please click here