As well as that, 10 percent of families were dealing with a high-risk pregnancy and needed to be close to the hospital.
In 2017 and 2018, Jacinda Panther found herself in both situations when daughter Maisie and son Louis were born. She shares her story.
It was a Saturday – the day of the highly anticipated Cyndi Lauper concert in Christchurch and Jacinda Panther and her school friends had travelled from all over the country and Australia for a girls' weekend away. The 80s costumes were chosen, along with the fluorescent make-up to match – this was going to be a weekend to remember.
"We'd come up on the Thursday or Friday and the plan was to have a good night at the concert," Jacinda reminisces.
At 32 weeks pregnant, things seemed to be going well apart from the odd pain, which she assumed was Braxton Hicks contractions – after all, baby wasn't due for another eight weeks.
"I was at Riccarton Mall when it got really bad. We went back to a friend's house, all of them were mums and had been through this before, so they kindly offered me some paracetamol."
Jacinda's partner Patrick was out on a hunting trip in the Canterbury Hills. When he asked whether he should come back to be with her,
they told him not to bother as they were sure it would be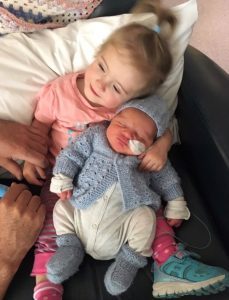 fine.
However as the afternoon dragged on, the pain became worse.
"They were getting ready for the concert, and I was on the bed crying. At 2 or 3pm, my friend and I went to Christchurch Hospital and by 4pm Maisie was born.
"I honestly thought they would just give me something to stop the labour – I even brought my costume to the hospital! But then my water broke, and it was all on."
Jacinda's friend stayed with her during the birth, and the story of how they were supposed to be at the Cyndi Lauper concert spread amongst the nurses – particularly when the other friends popped in to see them on their way to the concert – dressed in their full 80s get-up.
"We can laugh about it now, but at the time it was pretty full on," Jacinda says.
Patrick arrived within a couple of hours, and the couple slept at the hospital for two nights before they were told they needed to find other accommodation while Maisie was in NICU. A social worker mentioned trying to find a room at Ronald McDonald House, but the House had been pretty full, so there were no guarantees.
"It was touch and go whether we'd be able to stay, but at the last minute, they came and said you've got to go, there is a room for you at Ronald McDonald House."
Jacinda had heard of Ronald McDonald House, but really didn't know what to expect.
"I remember that first time walking in and bursting into tears. They must've thought 'oh my goodness'. Mary-Ann (Front of House) was at reception and she came around and gave me a hug.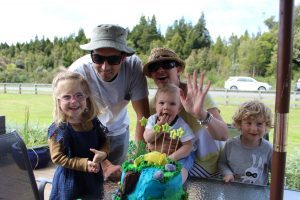 "I really wasn't expecting it to truly be a 'home away from home'. You walk in the door and it is like home.
"You hear people tell you 'they do this, and they do that' but you have absolutely no concept about what it actually means until you're staying there yourself."
For the next 25 days, Patrick and Jacinda stayed at the House as Maisie continued to gain weight in NICU.
"It's amazing how close we were. I was lucky if Maisie was upset or unsettled they could ring me and I could be there within 10 minutes."
Seventeen months later, at 24-weeks pregnant Jacinda found herself back at the House awaiting the birth of son Louis.
"They were a little bit more cautious second time around and sent me over from Greymouth to Christchurch when I was 24 weeks pregnant because they thought I might have gone into early labour again.
"We didn't know when we first left Greymouth the second time where we'd be staying, we had hoped it would be Ronald McDonald House, but we'd also been told to find our own accommodation.
Fortunately, by the time we got to Christchurch, we were able to get into the House straight away."
Within a week, the family learnt they were in Christchurch for the long haul - until Louis was born.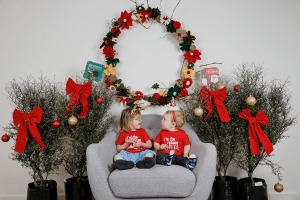 For the next 86 days, Jacinda and Maisie lived at the House while Patrick came back and forth in between work. It was pretty tough going, but staff were amazing and helped Jacinda look after Maisie while she rested.
"They helped us find a preschool Maisie could go to twice a week while I went to the hospital for scans. Having her at the House with the playground, trampoline and the other kids, with always
something going on definitely helped."
Just before Christmas 2018, at 36 weeks, Louis was born.
A year on, Jacinda is still in awe of the love and support she received and Ronald McDonald House South Island.
"You can't even explain it to people who haven't experienced what it's like. The staff first and foremost, they're just amazing. Coming home, and not having our family, they were there for us as were the other families. Having the staff and other families checking in on you and if you were having a bad day, you knew you had someone to talk to. It's just life-changing."
Every year, Ronald McDonald House South Island helps more than 1200 families be close to their hospitalised child by providing free accommodation, food and support. If you are able to help us to continue to provide our services, we would love it if you could make a donation here. Whether it is $5 or $500, every cent helps.