At 28 weeks pregnant, Muireann suffered from complications which meant she was transferred to Dunedin Hospital from her home in Queenstown where she stayed for four weeks. She was then moved to Invercargill to be closer to the Maternity Ward and Neonatal Unit in Southland Hospital and then eventually to the Ronald McDonald Family Room where she stayed until the birth of her twins.
"I was sent to Dunedin Hospital from Queenstown by helicopter at 28 weeks pregnant when they thought the babies would be arriving very soon. After being moved to Invercargill it was a relief to be closer to the Neonatal Unit but as I was staying within the community it became a very lonely time for me. My partner Rich had to stay behind in Queenstown to work and so I pretty much stayed on my own while in Invercargill," Muireann says.
Muireann was without the support of her family members who are based in Ireland. This can be a challenge at the best of times but even more so this year, when restrictions due to COVID-19 means New Zealand has closed its borders to most family members who would otherwise be visiting from abroad.
"Being my first babies, I was feeling particularly nervous and anxious about being on my own. Thankfully at around 34 weeks pregnant, the team at the Neonatal Unit in Southland Hospital suggested I move into the Ronald McDonald Family Room."
"Being able to stay at the Ronald McDonald Family Room was a game changer for us. Not only was I closer to the Neonatal Unit should I go into labour, but to see Helen, the Family Room Supervisor every day and to have a familiar and friendly face around me was priceless. I had been on my own for so long, first in Dunedin then within the Invercargill community, it was a great sense of relief and felt like I didn't have to struggle on my own anymore."
"Rich was able to join me in the Family Room which was great. Having some of the evening meals cooked for us, breakfast available and home comforts gave us such peace of mind, as did being so close to the Neonatal Unit. Helen was always there to reassure us and to keep us calm." After spending two weeks in the Ronald McDonald Family Room, Muireann went into labour.
"At 36 weeks pregnant I went into labour and I truly believe being able to stay at the Ronald McDonald Family Room helped to keep me calm and less anxious. We didn't need the Neonatal Unit in the end, and it was thanks to the Family Room that had a positive impact on my mental well-being, it definitely helped to keep the babies in for longer!"
"On the Sunday when the twins were born we wanted Helen to know where we were and a couple of days later she came along to the ward to see Ava and Maisy and to give them a cuddle" Throughout her journey, Muireann constantly witnessed how a community will go above and beyond to look after people when they need them the most. "People who didn't know me or my family constantly gave up their time to look after me. Helen and her team of volunteers, although no longer strangers, would go to great lengths to make sure I was comfortable and had all the support I needed. I'm in New Zealand without family and it can be very hard to ask people for help, but the Family Room provided an incredible amount of comfort and support.
Muireann understands more than most the difference between being able to stay at the Ronald McDonald Family Room and it has impressed upon her how vital the service is. "I don't think people will have any idea how incredible or valuable the facility is until you need to use a Ronald McDonald House programme. If I wasn't able to stay at the Family Room I would have been on my own and staying within the community."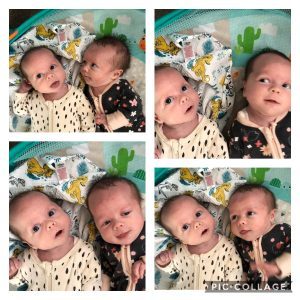 "I am certain that staying at the Ronald McDonald Family Room helped to get the girls off to a great start by not having to spend time in the Neonatal Unit and helped to ease my anxiety massively."
"Staying at Ronald McDonald Family Room really was like being at a home-away-from-home for me, well more like a home, away from home, away from home! If you can support Ronald McDonald House South Island in Christchurch, or the Family Rooms, then do it, as you never know when you might need it or the support from the incredible team and volunteers."
Become a regular giver today and help ensure families like Muireann's have a place to stay now and in the future. Click here to become a House Warmer for Ronald McDonald Family Room.