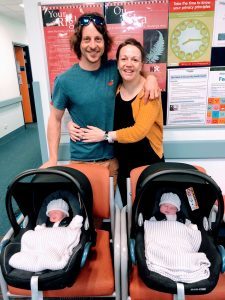 We first met Irish teacher Muireann, and partner, British builder Richard in September 2020. Having no family nearby can be hard at the best of times but when Muireann required antenatal care for the last ten weeks of her twin pregnancy it was a particularly challenging time for the Queenstown-based couple.
To support her high-risk pregnancy Muireann was in Dunedin for six weeks, then spent two weeks in Invercargill staying 15mins from the hospital, before she was welcomed into the Ronald McDonald Family Room, Southland Hospital. Here she stayed for 15 nights until her twin girls were born at 36 weeks. That special day was 4th October 2020, and Ava and Maisy [pictured] are now 15 months old and doing well.
Murieann fondly recounts the feeling of reaching a safe, comfy home-away-from-home just metres from the maternity ward.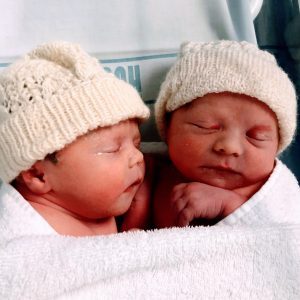 "When I moved into the Family Room it was like heaven. I felt so relaxed and happy to be there, which was just what I needed at that time."
As Richard had to work throughout this time and was only able to visit on weekend, Muireann particularly appreciated the friendly, nurturing presence of Family Room Supervisor Helen. "Having Helen there was so comforting, to see a regular face every day and know there was someone looking out for me gave me a sense of security. The accommodation, the food, the support – it was all so amazing. Helen even came in and saw the girls when they were born, it was so nice."