In Finn van Loon's first five months of life he had more medical adventures than most would ever encounter. To name just some, he experienced brain bleeds, a collapsed lung, hernias, sepsis, a fungal infection and was diagnosed with a congenital heart defect and a serious eye disorder. This saw him undergo 557 laboratory tests, 14 blood transfusion and one surgery. Thanks to supporters of Ronald McDonald House South Island, Finn's twin brother Adam was able to remain his number one supporter as he bravely battled it all.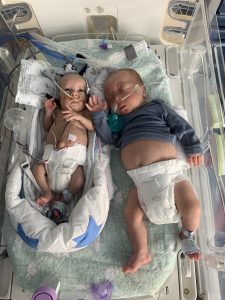 When Gore-based couple Kieran and Grace van Loon learned their introduction to parenthood would be two-fold, they felt like they had won the lottery. They had undertaken fertility treatment and were incredibly thankful that the first round had worked. Having been told by their fertility doctor that there was only a five percent chance they would conceive multiples, the prospect hadn't even crossed their minds. So, when the sonographer told them at their six-week scan that there were two heartbeats, "we just looked at each other in disbelief, then laughed".
The joy was soon clouded however, when concerns were raised that Twin B (Finn) was smaller than Twin A (Adam), and the gestational age gap between their "little miracles" kept increasing as the weeks went on.
"At six weeks, there was a two-day difference. At 12 weeks there was a five-day difference. Then, at 20 weeks Twin A was measuring two weeks ahead, while Twin B was measuring two weeks behind, making a four-week gap between them," Grace recounts.
At 26 weeks Twin B had very limited blood supply due to his intrauterine growth restriction. "They told us if they didn't act fast, he wouldn't make it and it would also start to affect Twin A."
Plans were made for Grace to transfer 200km up the road "to try and save our little boys" by emergency c-section at Dunedin Hospital. "It should have been one of the happiest times, but that was one of the most scary and daunting experiences of my life," Grace said.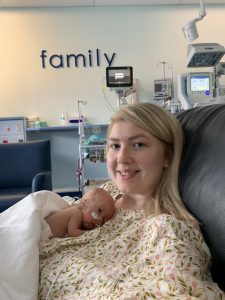 On 28th November 2020 the twins were delivered at 27 weeks 1 day (13 weeks early). Twin A, Adam weighed 1270g and Twin B, Finn weighing 670g.
For the next ten weeks the boys were under specialist care in Dunedin. During this time Finn fought many infections and battles including having a lumber puncture on Christmas Day for suspected meningitis.
The van Loon's were first welcomed by Ronald McDonald House on Waitangi weekend, when both boys were able to transfer closer to home for care at Southland Hospital. The Ronald McDonald Family Room, Southland Hospital is situated just metres away from the neonatal unit. Having somewhere to stay close by "in a time of full emotions, worry and stress" is something Grace will forever appreciate, especially as husband Kieran, a busy plumber, was juggling work, and Grace's family are back in her homeland of Ireland.
"The Family Room volunteers are such incredibly selfless people who give up their time to make it a real home-away-from home - they really cared," Grace said.
On the twin's due date, the 26th February, 13-week-old Adam was discharged from hospital and became a guest sibling at the Family Room.
"We are so grateful that Ronald McDonald House allow siblings to stay - it just didn't feel right to take one twin home without the other" Grace said.
Finn remained in Southland Hospital for another seven weeks to build his strength for a hernia surgery he needed in Christchurch. With his twin brother Adam residing just down the hallway with Mum during this time, the boys were able to continue to bond daily.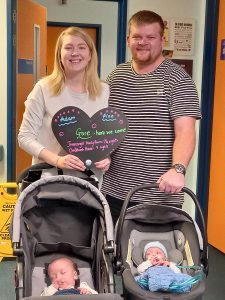 On April 19th 2021, the Van Loons were off to Christchurch Hospital and Ronald McDonald House Christchurch where they stayed for nine nights while Finn had his successful surgery, recovered and awaited an air ambulance flight home.
"We are so grateful for the Christchurch House. We would get up early every morning for breakfast then head over to spend the entire day in NICU. The short walk from hospital to the House made it possible for us to tag team going back for a rest while the other stayed with Finn."
Once back in Southland, after a long-awaited five months and one day in hospital (152 days), Kieran and Grace were told that while Finn was to continue his oxygen support, they could finally take their twins home.
"We had been waiting on that day for so long. It didn't sink in until we were belting them into car seats and saying our goodbyes. Thank you to Ronald McDonald House South Island for keeping my family together, we will be forever thankful. I guess you could say our whole journey was a miracle from start to finish."
Find out how to support families at the Ronald McDonald Family Room, Southland Hospital this Christmas by visiting https://rmhsi.org.nz/ways-to-help/give-the-gift-of-togetherness/