Fighting by her little brother's side. Makai, Amani and the Kareko-Tui Family.
Megan Kareko from Dargaville was receiving treatment for stage 3 breast cancer when she found out she was pregnant with her second child.
Usually, this is a joyous time, but all Megan felt was sadness and disbelief. Because she thought, "I don't have the opportunity to have this child."
Megan made the decision to have a mastectomy, and luckily by the time she healed from her surgery, she would be past her first trimester. It would then be safe to continue treatment while carrying her baby.
Proud parents Megan and Conrad welcomed their beautiful baby boy Makai Manuhiri Emerson Kareko-Tui on 20th April 2018.
"Straight away, I knew something was different with my son." When Makai was just a week old, he was diagnosed with Down Syndrome.
"I couldn't help the tears from falling. I sobbed and I sobbed. I didn't care that my son had Down Syndrome. What I didn't want was the stigma that society places on children like him."
She held him in her arms, loving him and saying, You are smart. You are kind. You are important.
Megan knew her son could potentially face a wide range of serious health issues, but for nearly a year, he was the most happy and healthy wee boy.
Then little Makai caught a cold, with the usual temperature and running nose he was just miserable. But unlike most colds, it lasted for weeks.
"I thought something's not right. I was at my wits' end."
Megan was so worried, she asked for blood tests. As soon as the results came through, Mum and baby were rushed by ambulance to hospital in Auckland.
"In 24 hours, our worlds were turned upside down."
Makai had AML. Acute Myeloid Leukaemia. Cancer was multiplying abnormal cells through his blood and bones. Makai's marrow could not produce enough vital red blood cells, increasing his risk of infections, anemia and bleeding.
Baby Makai would need to spend nine months away from home, receiving cancer treatment in hospital.
"What more could he endure?" his Mum asked. "All I felt was sadness and disbelief. How can life be so very cruel?"
First, breast cancer. Then Down Syndrome. Then baby Makai had Leukemia. How could the Kareko-Tui family possibly cope? Thanks to you they were always fighting by his side.
Because of generosity from people like you, the Kareko-Tui family found some comfort on their unbearable journey.
When Megan first stepped out of the ambulance in Auckland, she had no idea where she would stay that night – or how she could afford to live in Auckland while her son was sick.
"I was put on to the lovely people at Ronald McDonald House. Words honestly cannot even express how grateful I am for this place."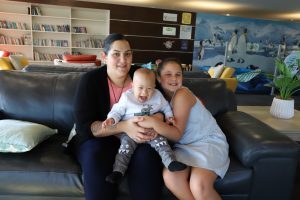 Megan, Amani and Makai staying at Auckland Domain while Makai was undergoing treatment. 
Megan was embraced and amazed by the love and care of the volunteers, the staff and all the other services for people whose lives are put on hold because their child is desperately ill.
She talks about the comfortable rooms, the home-cooked meals, the baking. A haircut right there in the House. A massage to relieve the endless tension. A shuttle to the supermarket.
Also very important for the family were the activities for other children, to keep them happy and learning while their parents are at their child's bedside.
This is where we meet Amani Phillips, the big sister of little Makai. She was fighting by her little brother's side all the way.
Amani's world was turned upside down. "I've been through horrible leukaemia. Packing my life into a bag. Six rounds of chemotherapy and 273 nights not in my own bed. But I'm not sick. My brother Makai is."
Makai needed his family fighting by his side – and thanks to you, his sister was able to thrive.
"My daughter attended school at Ronald McDonald House," says Megan. "She excelled in her learning. She became more confident in herself and more expressive through her art."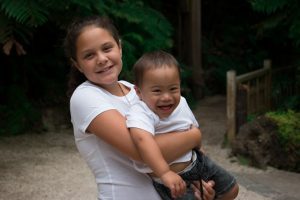 Amani and little brother Makai.
"It has helped my family immensely financially – but most importantly, emotionally – to be able to stay together during such a time. It was our home-away-from-home."
Over the course of those 273 days and nights, Makai fought through three rounds of chemotherapy. It wiped him out, gave him septic shock and he lost a frightening amount of weight. They nearly lost him … but with his family fighting by his side, Makai has recovered and is now at home.
Without your support for Ronald McDonald House, Megan says, "I can't imagine what our journey might have looked like. I don't think I could have coped."
This grateful mum knows this was only possible because of you. "The awhi you give thousands of families each year is truly a blessing. Thank you for your love and support."
When their son and brother was fighting for his life, you helped them fight by his side. Thank you for supporting families like the Kareko-Tui's.