Rob and Linley Parry have been incredible supporters of families in need of care for over two decades.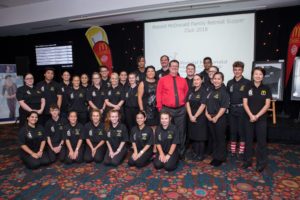 Rob and Linley Parry are the franchisees of McDonald's Rotorua, and have been for more than 20 years – and have been huge supporters of RMHC New Zealand for every one of these years.
After being with McDonald's for over 30 years, where they met as crew members in Palmerston North, they have worked their way up to being franchisees. Rob and Linley often talk about their support for RMHC New Zealand being the part of the business that they are most proud of.
They have dedicated an incredible amount of time to support RMHC New Zealand since they became franchisees. They make sure to share the love by motivating their crew to be involved (from payroll giving to volunteering, to helping with the Ronald Family Retreat) and engaging their community to create widespread support in the region.
In the last 20 years, the Parrys have helped raise over $1 million through their restaurant fundraising, event planning and capital campaign support!
This included RMHC New Zealand's capital campaign "Buy A Brick" which helped fund the development of the Ronald McDonald Family Retreat.
They now call Rotorua home. Their help was an integral part of the Ronald McDonald Family Retreat's success. They are particularly passionate about providing families in need with a calm, relaxing escape from the stresses of a medical journey. Without their support, the Retreat may not exist as it does today.
They are also passionate about organising fundraising events to support families with a child in hospital. Linley has been leading the Rotorua Supper Club event since its inception 11 years ago, and both her and Rob have spent thousands of hours ensuring that the event would become as successful as it has.
Supper Club is a nationwide series of events in the major cities of New Zealand which invites guests to purchase a table to a surprise restaurant. Local restaurants donate tables for the event, and guests are invited to a central location for a cocktail event, before having their names drawn from a hat to determine which restaurant they will spend the rest of the evening in. It's a traditionally sophisticated dining event turned fun with the added elements of surprise and delight!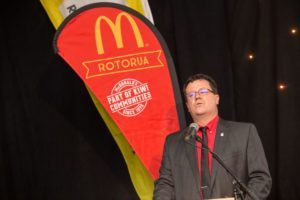 Rotorua Supper Club has been one of the city's biggest charity and social events for more than a decade. The event, which this year raised $150,997 (up from $135,541 last year), funds the Ronald McDonald Family Retreat which is situated on the shores of Lake Rotorua.
This brilliant fundraising effort brings the total raised by Rotorua Supper Club within a hair of $1 million! The whole community comes together to support the event, with many local businesses helping to provide guests with food and drink, and various items also being donated by generous members of the community.
This year's auction featured a luxury cruise for two kindly donated by HelloWorld Travel,, and a raffle for a brand new Nissan QASHQAI from Nicholson Autos, along with many other great items.
"We're absolutely thrilled," Rob says about the funds raised. "You get to see the very best of what Rotorua has to offer and we're so lucky and fortunate to live in this great city."
"This event raises money for such a great cause and, while it is a lot of hard work, it is also rewarding."
Again, without Linley and Rob's help, Rotorua Supper Club would not be the incredible success that it is today. We want to say a huge thank you to them for always being great supporters of families while their child is hospitalised. Their efforts are truly amazing.
Are you interested in attending a Supper Club event? We're sure that there'll be one happening near you soon.
Supper Club Auckland – 26th May 2020
Supper Club Waikato – 20th August 2020
Supper Club Nelson – 30th July 2020
Supper Club Dunedin – 6th August 2020
Supper Club North Shore – 9th September 2020
Supper Club Wellington – 15th October 2020
If you'd like to purchase a table for 8-10 attendees (dependant on location), you can email [email protected] and help families who are enduring a medical journey and get a great night of fun in return.